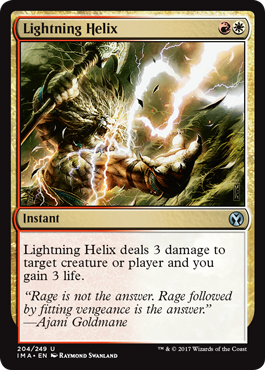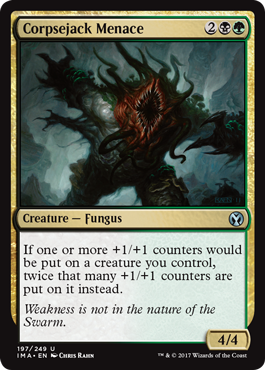 Iconic Masters Limited Review – Multicolor Uncommons
Virtually every Mythic, Rare, and even some of the Uncommons in Iconic Masters will take over and win the game. Left unchallenged they represent a quick clock, an unstoppable threat and insurmountable card advantage.
So of course, if you crack an amazing bomb you'll be quick to windmill slam it, pack one pick one.
The question becomes, what on earth do you pick next??
Since the player next to you always opens a high value card, you know you're stuck with whatever Uncommons are leftover.
These reviews will focus on evaluating the Uncommons in each color.
Questions, comments, concerns? Comment below and let us know what your Pack One Pick 2 is.
5.0: Always take this – doesn't even matter what color you're playing, this is tier 1. Splash a color, hate draft, whatever you do, pick this card.
(Notably, there are better players than myself who argue that it is never correct to hate draft – While I agree that you shouldn't waste a high pick on Hate, for a 5 I would virtually always splash a third color for this card)
4.5: Topnotch bomb or best removal of the color, virtually always pick this card up, unless its pack 3 and way too late to splash.
4.0: Game Winner, but not unanswerable. Second best removal spell.
3.5: On color? Pick it. Off color? At some point you have to ask yourself how many colors you're willing to play.
3.0: I'd play this every time if it's an on Color Pick, Might be worth card 41.
2.5: On color playable card that could be good enough, but I wouldn't bump to 41 for it.
2.0: Getting down to the dregs. If you just found out you've only drafted 10 creatures and any body will do, then you might be stuck with this card.
1.5: You only have 16 on color cards?? And its pack 3?? Time to pick up the dregs.
1.0: Even worse than above, if possible.
0.5: Sideboard. These aren't bad, but if you are maindecking this something went wrong.
0.0: It's a shame this set doesn't have basic lands so you could force this and send a message.
Multicolor cards represent a particularly interesting choice for draft. If you high pick an excellent multicolor card early you are potentially shutting out other colors over the course of the draft – i.e. I can pick up a Kokusho without necessarily opting into Rakdos (Black/Red) Dragons, after all he's a bomb no matter what color you're using with Black, but if I pick up a Bladewing the Risen I am almost required to play Rakdos or risk being unable to use Bladewing because of mana issues.
On the other hand, passing a Multicolor card shows our fellow drafters that the synergy is potentially open for them – especially pick 3 and later, which means that you are almost certainly opting out of that strategy for pack 2, when the draft switches directions. This can be an excellent way to signal and make sure that your future colors are open!
For Multicolor, the two ratings will vary slightly
– Power will be used to signify whether or not I think you should commit for that card (or even splash a 3rd color for that card)
– Synergy will be used to reflect how important that card is to that guild/color combo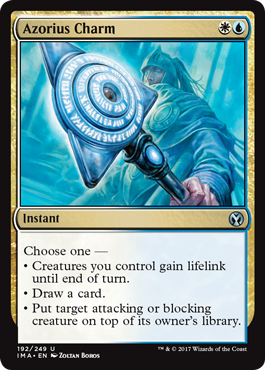 Azorius Charm
Power – 3
Synergy – 4.0
Azorius wants to play either a tempo-y game or a long game, depending on the rest of your deck, and this Charm does it all. Life gain for the long run, Drawing into new options when it doesn't do what you want, and even setting your opponent back a turn, potentially on their most powerful creature!
I give Azorius charm a 3 for power because I'm not inclined to splash it in a number of W/x or U/x decks – especially low curve W/R or more Control based U/B.
But if you are already in Azorius, chances are high you want these effects, and it is also key to avoid sending the wrong signal in the draft so that you can keep getting quality picks.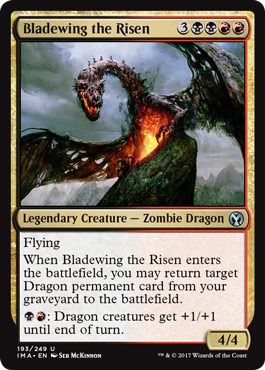 Bladewing the Risen
Power – 2.0
Synergy – 4.0
I write these reviews one card at a time, but I have a feeling that Bladewing will not be the only 4.0 on Synergy. The multicolor cards are specifically designed to support an archetype that is built into their two color combo, and if you are already committed or looking to go that direction then they will be an automatic pick.
That being said, Bladewing also scores low on absolute power level – Mono color uncommons have similar stats and abilities for 5 cmc and if you don't have a Dragon in the grave it is hard to justify the 7 cmc on Bladewing. Moreover a turn 7 4/4 is not going to stop you from dying if you are behind on board. I would feel most comfortable picking up Bladewing for a deck that has 3+ dragons and 2+ dragons matter cards.
Blizzard Specter
Power – 3.0
Synergy – 3.0
Blizzard Specter continues the trend of creatures who are overcosted on stats, but have a text box that makes all the difference. A 2/3 flyer is fine. A repeatable discard effect is excellent. An 2/3 flier that tempos and discards is amazing!
That being said I can't justify raising the rating above a 3.0 – I'm not picking this over a solid removal spell or a monocolor threat unless I am already going for a Dimir deck.
I'm sure that there will be players that disagree – let me know what you think!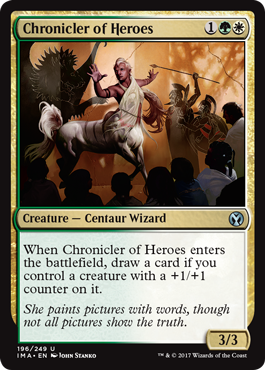 Chronicler of Heroes
Power – 2.5
Synergy – 3.5
A rogue refiner that you have to do a little bit of work for. There is nothing wrong with playing a 3/3 for 3, and if your deck can support the text box then getting a free card will help you continue the beat down in a G/W counters matter deck. The value goes up if you have multiple ways to put a counter on the Chronicler – like Timberland Rangers and Hunt the Weak. All in all you're not going to be mocked for picking this card, however I wouldn't prioritize it over other cards that play into the Counters Matter Deck.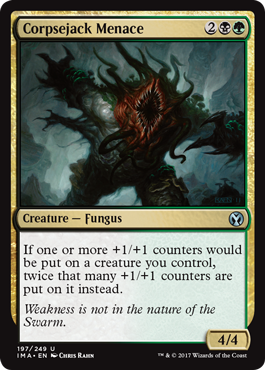 Corpsejack Menace
Power – 3.5
Synergy – 4.0
I know that there are a number of similarities between Corpsejack and the previously reviewed Chronicler, however the difference between a 3/3 and a 4/4 in this set is phenomenal – let alone the value that you realize if you are able to generate a few extra counters on board while the Menace is in play.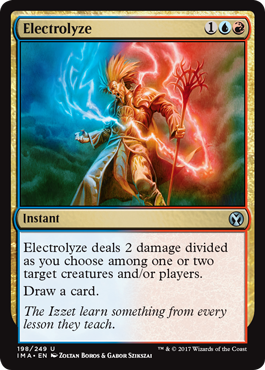 Electrolyze
Power – 3.5
Synergy – 3.5
Electrolyze is always a great card giving you at minimum a 2-for-1 but opening you up to even more value if you are against a low curve deck where the single point of damage can remove a creature or change the combat math.
I'd always play this card – but I might also be inclined to ship it around the table and put my opponents on an izzet deck and out of my colors.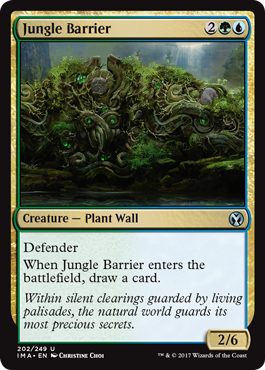 Jungle Barrier
Power – 2.0
Synergy – 4.0
Jungle Barrier has 2 things going for it – first a 2/6 blocks every other common and uncommon in the set (almost, unless it flies or has deathtouch or is a Duskdale Wurm!) and it threatens to kill off smaller creatures, forcing your opponent to go wider or stop attacking. And of course it replaces itself so there's low cost to including it.
But there is a high cost to picking it, so unless you're trying to force Defender.dec and you need every single defender you can get, I'd just let this card wheel the table – no shame in playing it, but pick a more relevant card the first time around.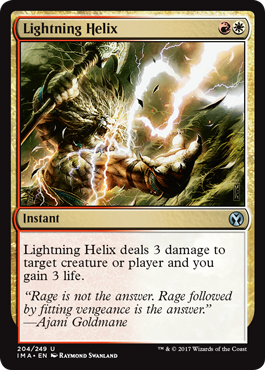 Lightning Helix
Power – 4.0
Synergy – 4.5
The first thing is to start with a word of caution – if you pass lightning helix you are virtually guaranteeing that you can't play Red White this draft.
On the other hand, I wouldn't pick this up over other removal available in Iconic Masters – there are just too many 4/4s running around.
So why did I give it a high rating? Because you have to respect the ability to target your Opponent and just end the game out of nowhere. Between Helix, Fireball, Staggershock and Riftbolt you have plenty of free damage to the face, and Helix gives you the reach to keep attacking even when your life total is getting low.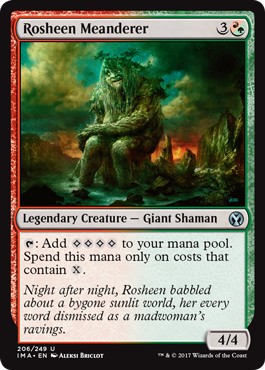 Rosheen Meanderer
Power – 3.5
Synergy – 4.0
Rosheen is a no brainer for 2 reasons – as a 4/4 for 4 he outmatches most other creatures in the set, and as a hybrid card you can play him in any deck playing red OR green.
If you have a Fireball or Hydra then you get all the value!! Yay!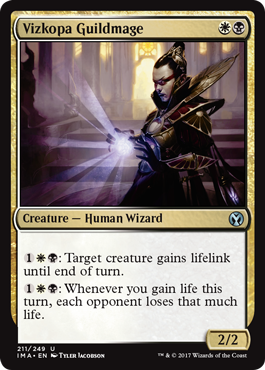 Vizkopa Guildmage
Power – 2.5
Synergy – 3.5
And no color or set of colors would be complete without a Bear with Text. A 2/2 for 2 is always a fine play. A 2/2 for 2 with 2 activated abilities is even better. In the Orzhov Drain deck the guild mage is always going to put in some work.
Keep in mind that this is a color intensive card, so if it wheels you are wide open, but if you pass on it and someone else picks it up you now have someone else picking up your colors… Just something to keep in mind.